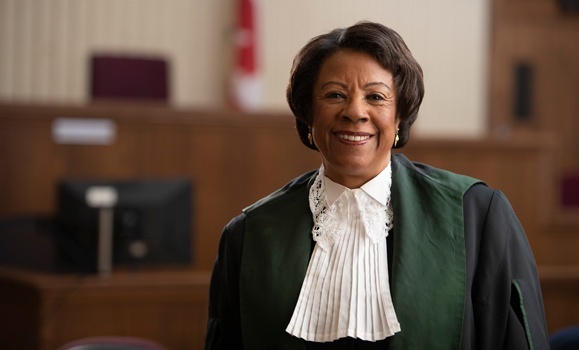 Born in 1953, Corrine Sparks became the first Black Nova Scotian judge and the first Black woman judge in Canada. After serving as an attorney in Halifax for six years, Justice Sparks was appointed to the Nova Scotia Family Court judiciary in 1987.
Justice Sparks grew up in Lake Loon, a small, segregated community in rural Nova Scotia, and traces her ancestors to the resettlement of the Black Loyalists in Nova Scotia around 1783 and the "Black refugees" following the War of 1812. After attending an underfunded, segregated elementary school, she went on to study at Mount Saint Vincent University, where she graduated with a degree in economics in 1974, and then to Dalhousie University, where she earned a Bachelor of Law degree in 1979 and Master of Law degree in 2001.
In an interview with Contemporary Black Biography, Justice Sparks said: "You are dealing with human beings. In order to be an effective judge you need to employ many skills on a daily basis. You need knowledge of the law, human compassion, and empathy. One has to be mindful that one is just an instrument for serving the public. In that sense, that is the most gratifying aspect of the job, the ability to serve people knowing hopefully that you are able to balance your legal knowledge with compassion and understanding with the human beings who appear before you."  
After thirty-four years of service, Corrine Sparks announced her retirement beginning in 2022. Although she will no longer be a judge with the Family Court, her hard work, passion for justice, and commitment to her community persevere. She has begun work as a commissioner with the provincial land titles initiative launched in 2017, adjudicating disputes over land ownership in historic Black Nova Scotian communities.
Sources:
"Corinne Sparks Biography" Brief Biographies, online: https://biography.jrank.org/pages/2828/Sparks-Corinne.html
Sara Pendergast & Tom Pendergast, Contemporary Black Biography: Profiles from the International Black Community, vol 53 (Michigan: Cengage Gale, 2008)
"Corrine Sparks, First African Nova Scotian Judge, Retires" SaltWire Network (30 December 2021), online: www.saltwire.com/atlantic-canada/news/corrine-sparks-first-african-nova-scotian-judge-retires-100675527/
Image source:
Stephanie Hurley, "Corrine Sparks Named 2020 Recipient of the Weldon Award for Unselfish Public Service" Dal News (20 November 2020), online: Dalhousie University, www.dal.ca/news/2020/11/02/judge-corrine-sparks-named-2020-recipient-of-the-weldon-award-fo.html