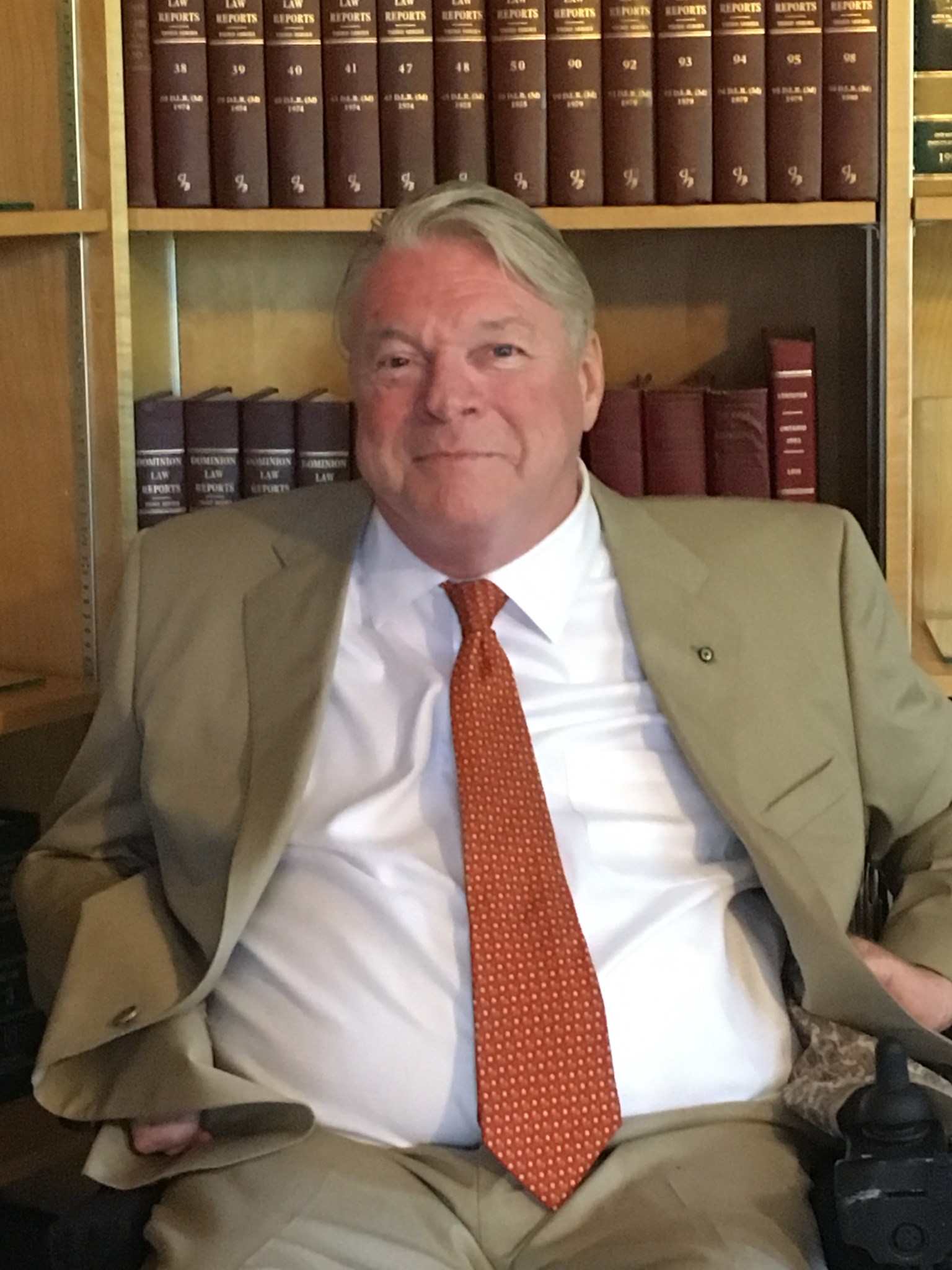 David Shannon, born in Fort William, Ontario, in 1963, is an influential disability and human rights lawyer, activist, and politician. He has held positions in academia, law, social services, and human rights in both Ontario and Nova Scotia, and worked with the United Nations to advance disability rights on an international level.
As a youth, Shannon was an active and accomplished athlete. His high school ruby team won the Nova Scotia provincial championship, he received sports awards at his high school graduation in 1981, he represented Nova Scotia in rugby at the Canada Games in Thunder Bay that same year, and he enrolled in the University of Waterloo with a rugby scholarship. Then, three weeks into his university career, a collapsed scrum during rugby practice left him with a serious injury: a broken neck, which rendered Shannon a quadriplegic.
After a lengthy convalescence, Shannon moved to Thunder Bay to complete his undergraduate studies, and immediately became involved in disability rights activism. Partway through his undergraduate degree, he was assigned to a polling station that was not wheelchair accessible, a situation that effectively denied him the right to vote. Shannon petitioned the mayor, the City Council, and the Ontario Human Rights Commission to make all polling stations accessible, which made headlines in Thunder Bay. In his last year of undergraduate studies, he was appointed assistant regional coordinator of the Canadian Paraplegic Association.
In 1987, Shannon commenced a law degree at Dalhousie University, where he quickly developed a passion for human rights law, and he went on to complete an LLM at the London School of Economics, graduating in 1997. In 1998, he started his own law practice in Thunder Bay, where he practiced administrative, mental health, family, disability, and human rights law. In the following years, as well as practicing law, he worked with his foundation, advocating to ensure the passage of the Ontarians with a Disability Act and working to provide opportunities for people with disabilities in the Thunder Bay community. He went on to become a member of the board of directors for the Canadian Association of Independent Living Centres in Canada, executive director of the Nova Scotia Canadian Paraplegic Association, and the founding chairperson of the Accessibility Advisory Council of Ontario.
In 2005, Shannon was asked to help develop an international human rights treaty to protect the rights of the disabled. Representing the Canadian Association of Independent Living Centres, he participated in the discussion at the United Nations headquarters to craft the Convention on the Rights of Persons with Disabilities treaty. The first decade of the 2000s also saw the landmark case Council of Canadians With Disabilities v VIA Rail Canada Inc, which questioned whether VIA Rail needed to make its rail cars accessible to people with disabilities. Shannon acted as attorney for intervenor for the Canadian Association of Independent Living Centres, and the case went all the way to the Supreme Court, which finally ruled in 2007 that VIA did indeed need to make the cars accessible.
The following years saw many accomplishments: Shannon joined the Canadian Disability Policy Alliance as co-chair of the citizenship committee and became the CEO of the Nova Scotia Human Rights Commission, where he created a new model of restorative justice. In 2011, he was appointed to the Order of Ontario for his "commitment to policy and legal advocacy for the protection of human rights and community inclusion for persons with disabilities," and was invested into the Order of Canada "for his advocacy on behalf of people living with disabilities."
Shannon's advocacy for disability and human rights goes beyond the legal and political fields. In 1997, he became the first quadriplegic to complete a cross-Canada trip using a motorized wheelchair. He visited every provincial capital and gave presentations in larger cities, focusing on the importance of education and employment. The endeavour, intended to raise money to support educational, entrepreneurial, and research initiatives for disabled people, gained national attention. He ended up raising approximately $500,000, which was used to fund start-up programs, scholarships, research, education, and job opportunities. Following the tour, Shannon was awarded the Canadian Foundation for Physically Disabled Persons' King Clancy Award, the Paul Gerrie Fellowship from the Rotary Club of Toronto-Don Valley, and the Clarke Institute's Courage to Come Back Award, among others. In 2009, he became the first quadriplegic to reach the reach the North Pole, another event used to raise awareness for disability issues and inclusion, and parachuted out of an airplane at an altitude of over 25,000 feet.
David Shannon has been and remains an important figure in Canadian and international law and policy, and an inspiration as a lawyer, an academic, an author, and an activist.
---
Sources:
"David Shannon" Celebs Age Wiki (2020), online: www.celebsagewiki.com/david-shannon-lawyer.
"Lawyer David Shannon set to receive Order of Canada Friday" TB News Watch (3 November 2011), online: www.tbnewswatch.com/local-news/lawyer-david-shannon-set-to-receive-order-of-canada-friday-389188.
"Mr. David William Shannon" The Governor General of Canada, online: www.gg.ca/en/honours/recipients/146-12513.
Image source:
"David Shannon Law" Spinal Injury Canada (2020), online: https://sci-can.ca/resource/david-shannon-law.